We keep on introducing improvements to your dedicated servers portfolio.

A couple of months ago, a brand new Xeon dedicated server setup was launched.
Today, we are happy to announce the availability of new, higher SSD and HDD storage upgrade quotas for dedicated servers.
Read on for more information about this significant storage upgrade.
What are the new storage quotas about?
Most of the dedicated server setups on our platform support disk storage upgrade options.
Up to now, you and your customers have had the option to choose up to 1 GB of SSD storage and up to 2GB of HDD storage.
With the introduction of new storage options, users can now upgrade their server's capacity with 4 TB SSD-, 4 TB HDD- and 10 TB storage disks.
The availability of those storage options varies across the different dedicated server setups: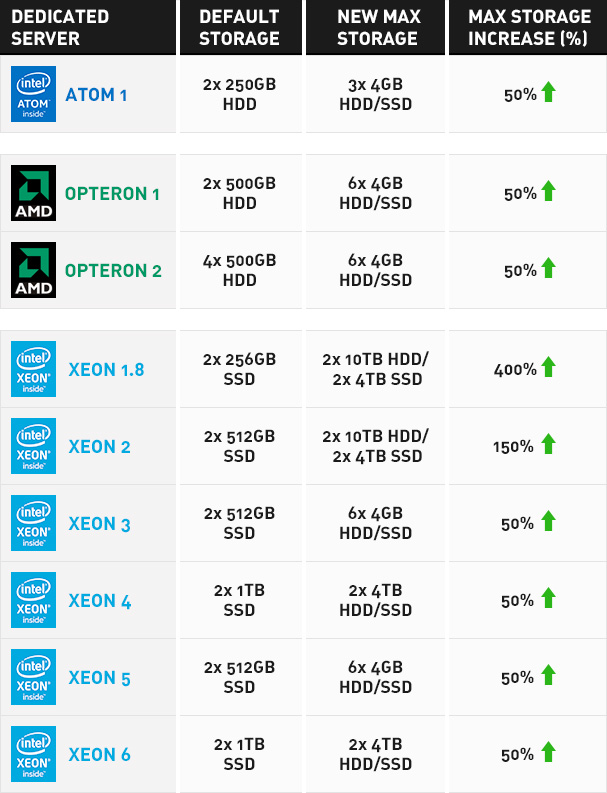 The 4 TB SSD and 4 TB HDD options are available for all setups which support an upgradeable storage option.
The 10 TB HDD option goes with the Xeon 1 and Xeon 2 configurations.
Apart from the storage upgrade uplift, we've also introduced new, lower disk prices.
This in turn has allowed us to scale down the pricing of existing storage options by up to 40%.
How can customers take advantage of the new upgrades?
The new storage options will be listed along with the existing storage options in the storage configuration area of the order form:
This means customers will now have much more space to grow and will get more flexibility for their projects.
The setup time for the server with the new options is the same as with the existing options.
Do I have control over the upgrade prices?
Yes, you can set your custom retail price on top of the wholesale cost.
You can do this from the Dedicated Upgrades section of the Reseller Control Panel: